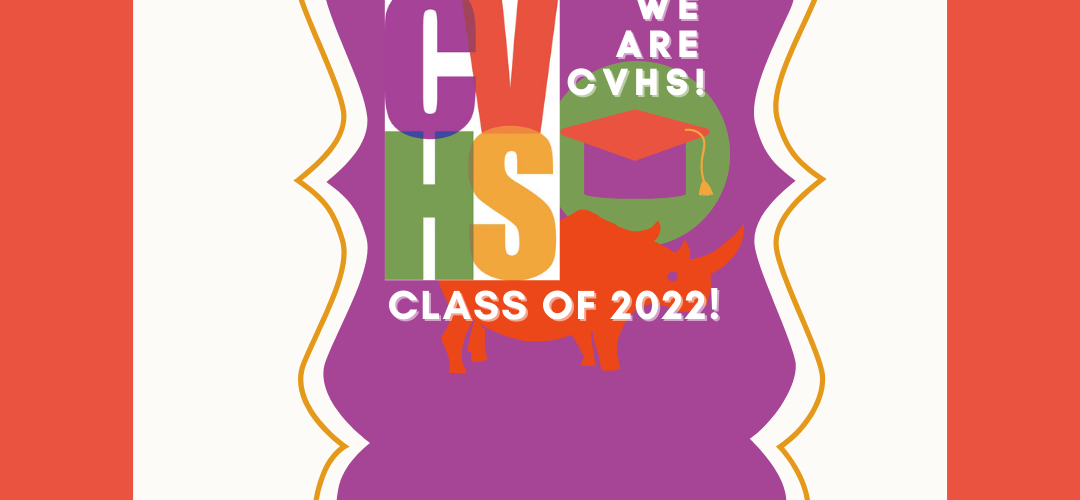 SENIOR PARENTS, PLEASE PAY YOUR SENIOR DUES HERE:
---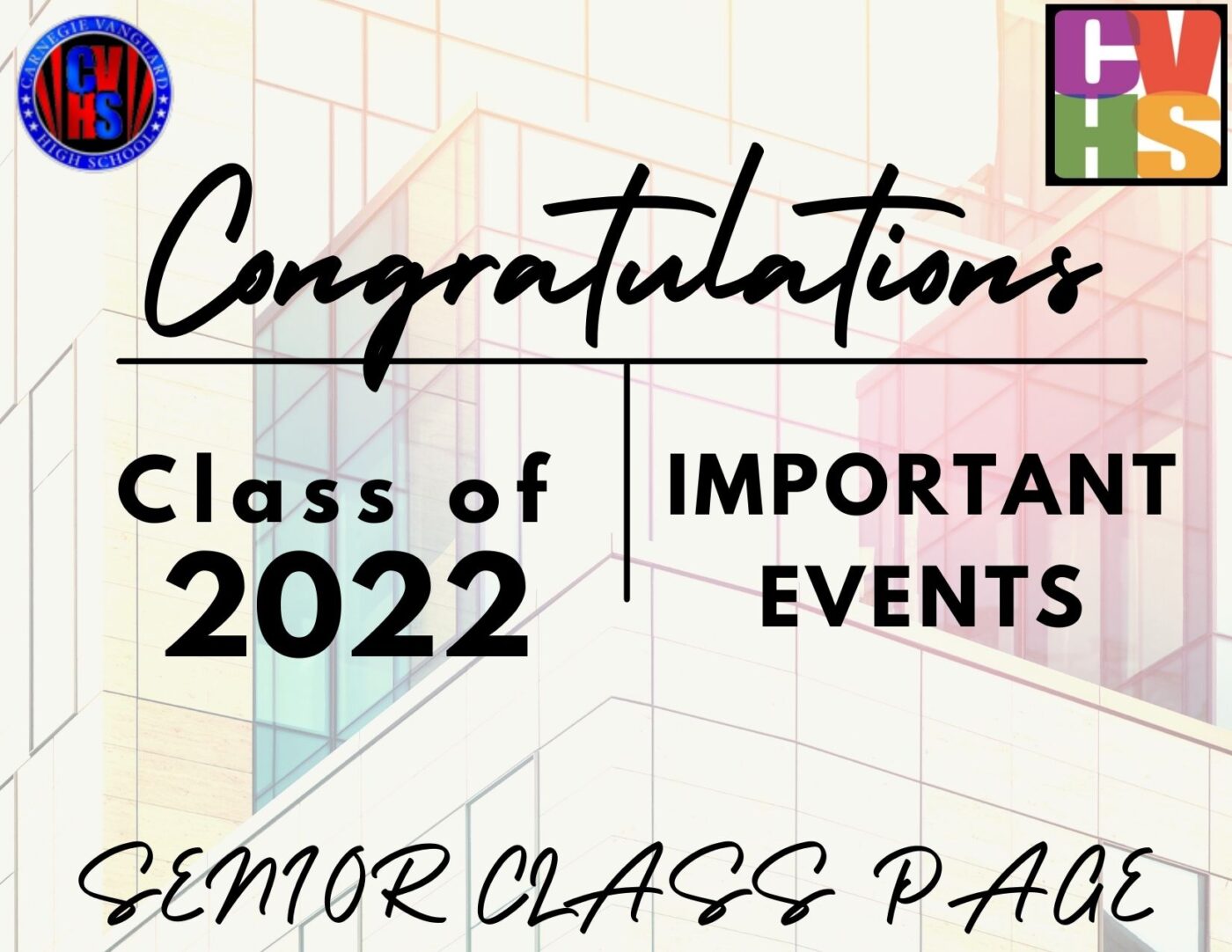 IMPORTANT DATES
DATE
EVENT
LOCATION AND TIMES (IF/WHEN AVAILABLE)
MONDAY, MAY 16- FRIDAY, MAY 20
SENIOR SPIRIT WEEK
CVHS CAMPUS; STUDENTS GO TO @CARNEGIEVANGUARD ON INSTAGRAM FOR INFO
THURSDAY, MAY 19
MAY PTO GENERAL MEETING
MAY PTO GENERAL MEETING (HYBRID, ONLINE AND IN-PERSON OPTIONS)
FRIDAY, MAY 20-SUNDAY, MAY 22!
SENIOR TRIP
Location: Camp Cullen YMCA (CC) – Parent's guide HERE |460 Cullen Loop, Ste A | Trinity, TX 75862 | 936-594-2274

5/20: 5:00 PM DEPARTURE TIME on Friday FROM CVHS (ESTIMATED ARRIVAL TO CC 7:00 PM)

5/22: 10:00 AM DEPARTURE TIME on Sunday FROM CC (ESTIMATED ARRIVAL BACK AT CVHS 12:00 NOON).

PARENTS: IDEALLY, WE NEED OUR CARNEGIE DADS TO STEP UP IN EQUAL NUMBERS FOR THIS ONE!!! THIS IS AN OVERNIGHT TRIP WITH PARENTS CHAPERONING MOST OF THE SENIOR CLASS.
Signup to volunteer to chaperone the Senior Trip (you do NOT have to be a senior parent to volunteer) HERE.
MONDAY, MAY 23
SENIOR AWARDS BANQUET
TUESDAY, MAY 24- FRIDAY, MAY 27
SENIOR FINALS
THURSDAY, JUNE 2
SENIOR CHECKOUT BEGINS
FRIDAY, JUNE 3
SENIOR SIGNING DAY
SATURDAY, JUNE 4
SENIOR PROM
7:00 PM – 11:00 PM
Location: Kim Son Ballroom; 2001 Jefferson St Houston, Texas 77003
TICKETS FOR PROM GUESTS $75 AND REQUIRE A SIGNED CONTRACT, AS PER SCHOOL ADMIN REGULATIONS. FOR QUESTIONS AND FURTHER DETAILS, ASK YOUR SENIOR STUDENT OR CONTACT THE CLASS of '22 SENIOR -STUDENT- COMMITTEE DIRECTLY VIA EMAIL AT cvhsclassof22@gmail.com
MONDAY, JUNE 6
GRADUATION REHEARSAL
TUESDAY, JUNE 7
SENIOR BREAKFAST
TUESDAY, JUNE 7
SENIOR SUNSET
AFTER SCHOOL ON CAMPUS. TIMES & DETAILS TBA!
FRIDAY, JUNE 10
GRADUATION!!!!
TIME: 7:00 PM Location: BUTLER FIELDHOUSE – 13755 S. Main, Houston, Texas 77037
HISD HAS POSTED THE FOLLOWING INFORMATION ON THEIR PAGE ABOUT GRADUATION:

CONGRATULATIONS, GRADUATES!
Spring graduation ceremonies for HISD's Class of 2022 will be held in June. For specific information about your school's ceremony, check the graduation schedule.

TICKET INFORMATION
NOTE: Ceremony attendance policy is subject to change. Attendance at graduation ceremonies will be limited. Graduates do not need a ticket to enter from the student entrance.
Graduates must have their cap and gown upon entrance to the facility.
For graduate guests: HISD Athletic Fieldhouse locations—(THAT IS US)Each graduate will be able to reserve up to TEN (10) guest tickets and two (2) parking passes.*HISD SITE SAYS 7, BUT CVHS ADMIN. HAS ADVISED US THAT CVHS FAMILIES HAVE BEEN ALLOWED 10 GUEST TICKETS.
Ticket ordering information will be posted on this website at a future date.
COVID-19 INFORMATION
To create the safest environment possible, the following COVID-19 health and safety guidelines must be followed by all staff, students, guests/spectators, and participants: Wear a face mask at all times.
Maintain physical distancing. The commencement ceremony guidelines will be in alignment with Houston Independent School District COVID-19 guidelines outlined in the Ready, Set, Go plan. Currently, the threat of COVID-19 in our communities is still high, but we see that countywide data is trending in the right direction with decreases in some data. As it stands today, HISD continues to employ its mitigation framework. If the current trends continue and no new variant emerges, the district will revisit some of its COVID-19 mitigation efforts, including our mask mandate in the near future.
STUDENT DRESS
All graduates must wear a cap and gown. Schools will contact parents of graduating seniors to provide more information on ordering their cap and gown.
---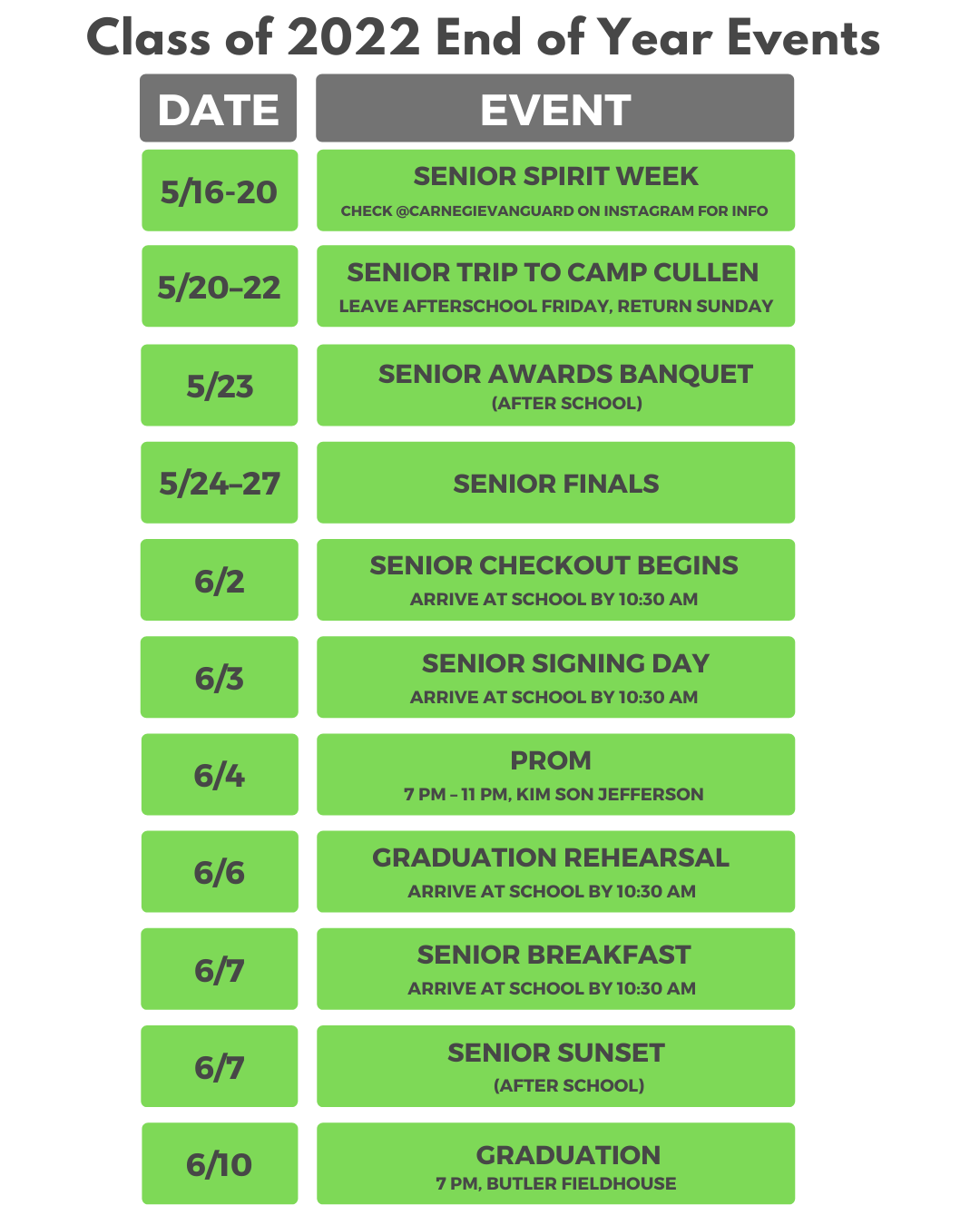 CONTACT THE CLASS of '22 SENIOR -STUDENT- COMMITTEE VIA EMAIL AT cvhsclassof22@gmail.com
SENIOR CLASS PARENT: MARIA C. CALZADA
SENIOR -PARENT- COMMITTEE MEMBERS:
Maria C. Calzada
Jessica Freedson
Georgi Silverman
Adriana Kabler-Rodriguez
Michele Ferrell
Thu Hang Dao-Jeanjean
Joya Shukla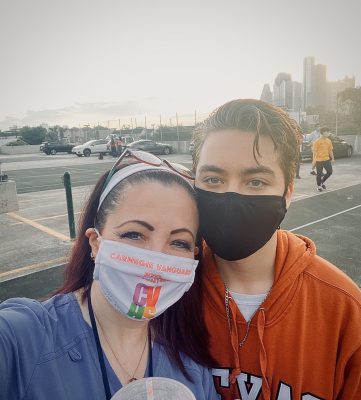 CVHS SENIOR 2022 LOGO
by Carnegie Vanguard HS PTO
---
---
PLEASE NOTE, THAT PAYMENTS FOR THE SENIOR TRIP WILL NO LONGER BE ACCEPTED. WE HAVE ALREADY SUBMITTED THE FINAL COUNT OF ATTENDEES.
ALL OTHER FEES CAN BE SUBMITTED:
Class of 2022 Dues BREAKDOWN AS FOLLOWS:
Cap and Gown Fees: $55 These are costs that account for the graduation regalia.
Prom: $25 (CVHS SENIOR) These are costs that account for the venue, food, and decor of the event.
Senior Trip: $100 This is the cost per person for the senior trip to Camp Cullen. —>>> PAYMENTS FOR THE SENIOR TRIP WILL NO LONGER BE ACCEPTED. 5/9/2022 <<<—
Year-end Activities: $25 This cost covers any food, gifts, and general maintenance from the end of the year activities. (e.g. senior breakfast, senior sunset)
Class T-shirt: $10 This is the cost per person of a commemorative Class of 2022 T-shirt.

Class of 2022 Dues (Remaining Balance)

USE THIS LINK TO PAY YOUR REMAINING BALANCE: ADD TO CART
Class of 2022 Prom Guest $75
GUEST Prom Ticket $75; for NON-CVHS Seniors & OTHER ADMIN-APPROVED GUESTS.
USE THIS LINK TO PAY FOR A GUEST PROM TICKET $75 ADD TO CART
---
Hello! There is also an opportunity to DONATE for students who need assistance with senior dues. Donations at this link support the Carnegie Vanguard Class of 2022's ability to have senior activities throughout the year, such as class trips, in-school events, and, most significantly, prom.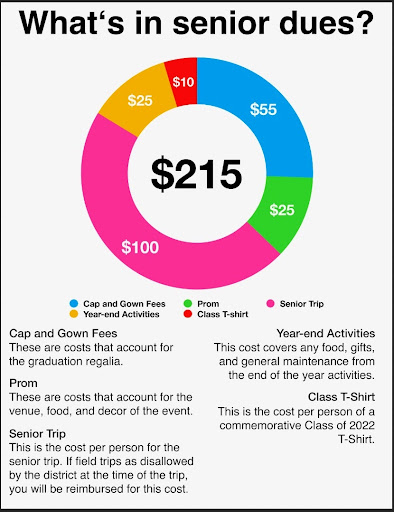 ---
We appreciate those who donate and thank them for making our senior year the best yet!