GRADUATION DATE for the Class of 2022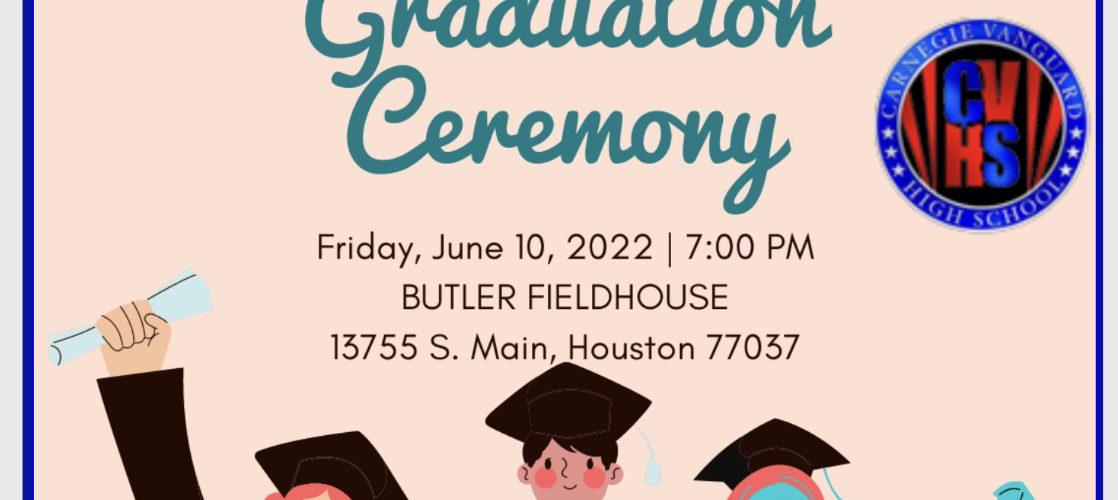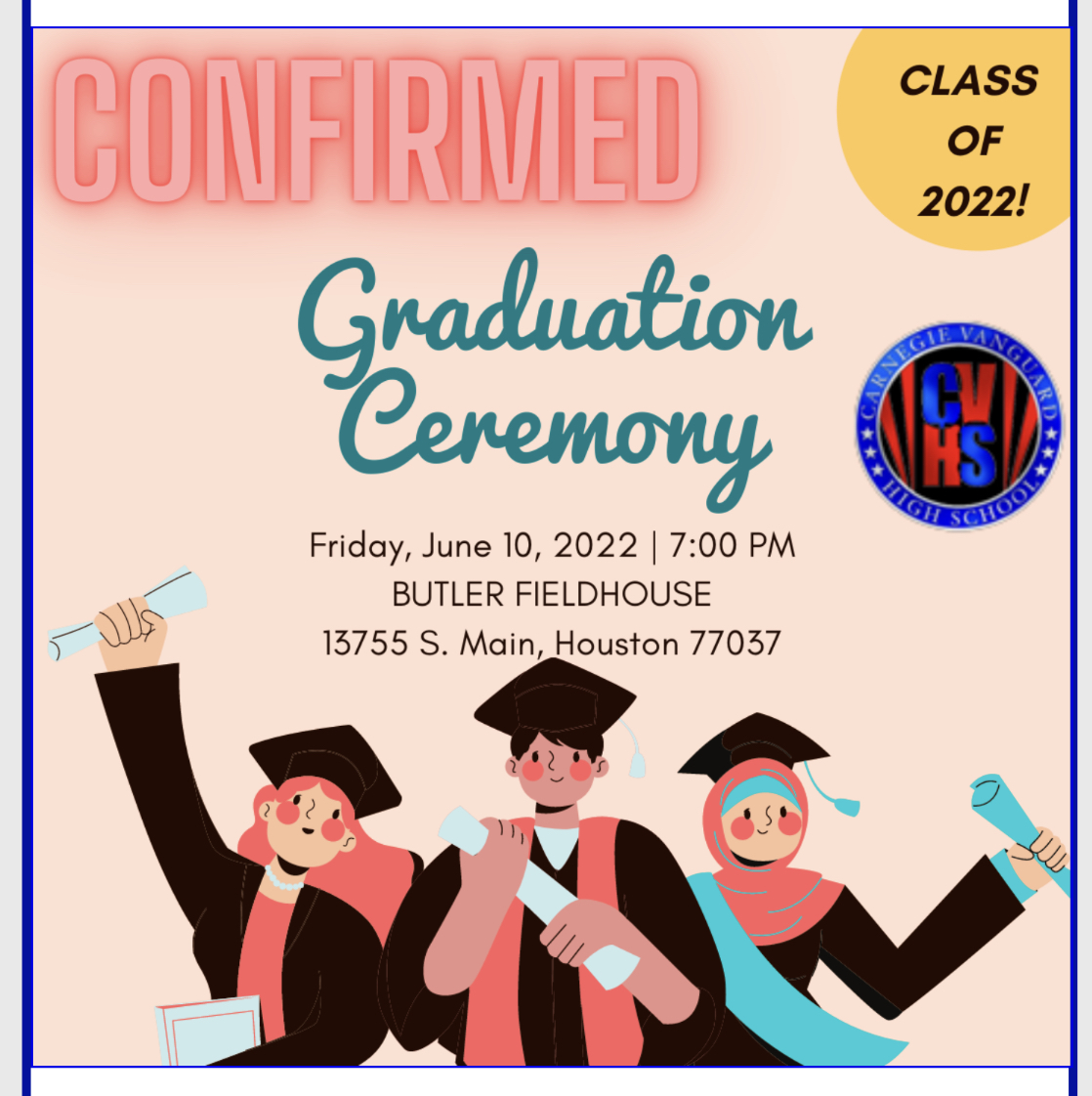 ***CONFIRMED*** Date and time of graduation Friday, June 10, 2022 – at 7 pm.
***CONFIRMADO*** Fecha y hora de graduación Viernes, 10 de Junio, 2022 – a las 7 pm.
Location: BUTLER FIELDHOUSE – 13755 S. Main, Houston, Texas 77037
HISD HAS POSTED THE FOLLOWING INFORMATION ON THEIR PAGE ABOUT GRADUATION:
CONGRATULATIONS, GRADUATES!
Spring graduation ceremonies for HISD's Class of 2022 will be held in June. For specific information about your school's ceremony, check the graduation schedule.
TICKET INFORMATION
NOTE: Ceremony attendance policy is subject to change.

Attendance at graduation ceremonies will be limited.

Graduates do not need a ticket to enter from the student entrance.
Graduates must have their cap and gown upon entrance to the facility.

For graduate guests:

HISD Athletic Fieldhouse locations—(THAT IS US)

Each graduate will be able to reserve up to TEN (10) guest tickets and two (2) parking passes.*HISD SITE SAYS 7, BUT CVHS ADMIN. HAS ADVISED US THAT CVHS FAMILIES HAVE BEEN ALLOWED 10 GUEST TICKETS.
Ticket ordering information will be posted on this website at a future date.
COVID-19 INFORMATION
To create the safest environment possible, the following COVID-19 health and safety guidelines must be followed by all staff, students, guests/spectators, and participants:

Wear a face mask at all times.
Maintain physical distancing. The commencement ceremony guidelines will be in alignment with Houston Independent School District COVID-19 guidelines outlined in the Ready, Set, Go plan. Currently, the threat of COVID-19 in our communities is still high, but we see that countywide data is trending in the right direction with decreases in some data. As it stands today, HISD continues to employ its mitigation framework. If the current trends continue and no new variant emerges, the district will revisit some of its COVID-19 mitigation efforts, including our mask mandate in the near future.
STUDENT DRESS
All graduates must wear a cap and gown. Schools will contact parents of graduating seniors to provide more information on ordering their cap and gown.
GRADUATION REQUIREMENTS